Tigger was our little girl kitty. Well, she was little a long time ago. She ended up being our "Big Tig Newton".

We also called her "Tiggaaaah".

She was also a middle kitty, and was Homey's sister. She held her own pretty well being the only girl in the house.

FYI... all of our pets were fixed.
She was a beautiful little girl when she was young.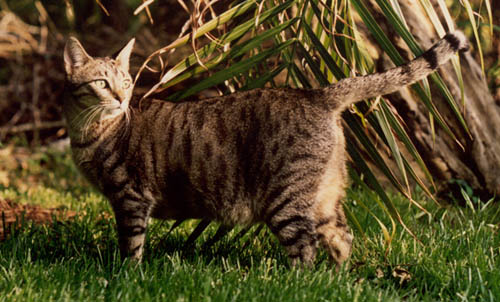 Tigger has also crossed the rainbow bridge on June 25, 2007. Our little girl kitty had a great life and had been becoming more affectionate as she grew older. Lately she would spend evenings at our feet letting us massage her as we played on our computers. I think she just liked massaging our toes with her face. We will miss you sweet kitty, but we hope you will keep your pal Bart company in Kitty Heaven. The amazing thing has been the reaction of Bubba, who meowed for two days after she passed. They used to fight a lot, but it seems he really liked her because he was looking for her all over. Bubba and J.C. both showed signs of missing her.