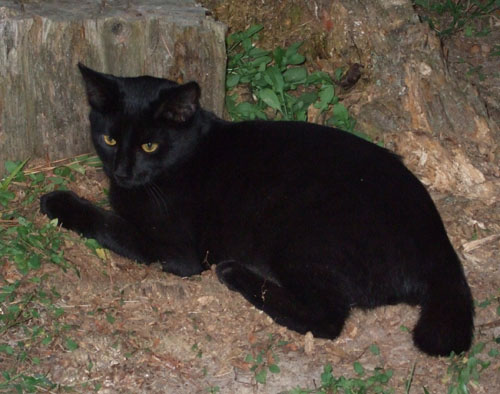 This is our cat is Bobo.

One day when I came home there was a kitty out in our front yard. I went over to see it, the sucker that I am. He came right out of the bushes and wanted some attention. He followed me to the front door. We felt sorry for him since he was so skinny. Yep, we fed him. He hung around on the front porch for a while.
| | | |
| --- | --- | --- |
| He hung around on the front porch for several days. J.C. figured out there was a cat on the front porch and met him over a few days. One day we came home and he wasn't in the front. Tina went out on the back porch, and there he was on the table -- in J.C.'s domain. | | |
Now they hang out with each other and are good pals. Bobo likes to hang out in the bushes in the back yard and charge out at J.C. when he walks or trots by. J.C. sometimes starts chasing him back and they run all over the backyard together. It is priceless.

He is a nice new addition!
| | | |
| --- | --- | --- |
| Bobo watched J.C. go in and out of the dog door and eventually got very curious about it. He finally started pawing at the door. Finally one day, he dashed through it. He slowly began to get more used to it, so he now comes and goes as he pleases. He hangs out on the back porch a lot and jumps the fence and cats around the neighborhood. | | |
| | | |
We lost Bobo in an unfortunate accident. He was only three years old.
It was the hardest loss to take and he was the best cat we ever had.